With BackWPup Pro, you can save your WordPress backup to Google Drive. Google Drive, Google's well-known online repository, is one of BackWPup Pro's most popular backup destinations.
The following Google trends graphic shows clearly that Google Drive as backup platform becomes more and more popular within the last years and that the popularity is growing still.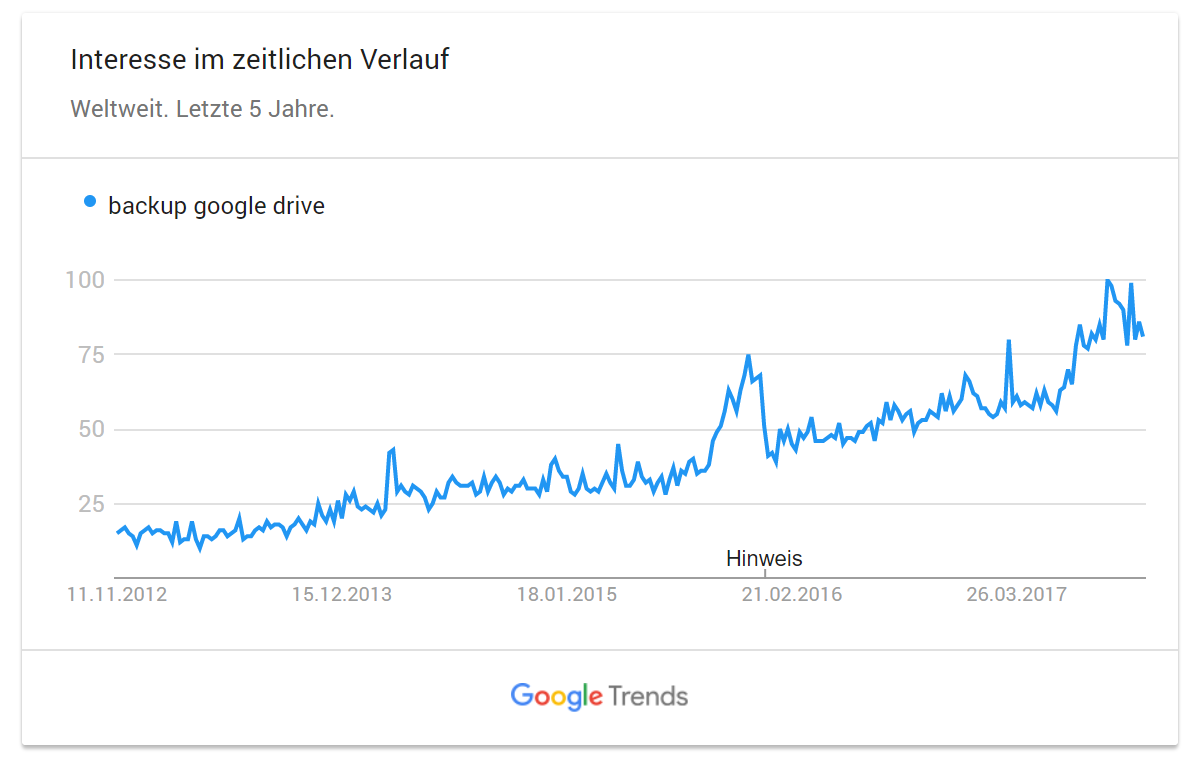 Buy BackWPup Pro now and activate the Google Drive feature for your WordPress backups.
Benefits in connection with a WordPress backup to Google Drive
you can profit from a free Google Drive repository containing currently 15 GB
all your files are ready for use always and everywhere – even the backup of your WordPress website
if needed, you can easily book additional Google Drive repository
surely, you use other Google products such as Gmail, Google Docs, Google Photos oder Hangouts privatly or G Suite professionally. You see, all is perfectly linked!
Set up WordPress Backup to Google Drive
Get a free Google account. You will have already done this step, that's quite sure 🙂
Select Google Drive as backup destination while creating a backup order.
Connect BackWPup with Google Drive.
You can find our detailed instruction describing how to set up a WordPress backup to Google Drive in our BackWPup documentation:
How to Backup WordPress to Google Drive with BackWPup
And finally, your WordPress backups land up where you want them most: in your Google Drive.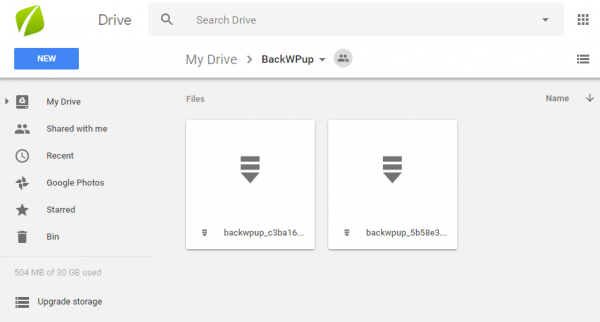 All BackWPup features at one glance
BackWPup has many options in order to save your WordPress website. Decide for yourself, what you save, when and where you save it. There is something to suit (nearly) all tastes.
You can find a complete overview about all features on BackWPup or as comparison between BackWPup Pro and Free in the BackWPup documentation.
You miss a feature? Use our contact form to tell what you want.